Mid-month already? Yeesh!
I haven't even begun quilting my January goal yet. There was no time to do it before I left for retreat and since I've been back I've been doing a lot of sleeping--lol!
I really wanted to get this quilt top put together while at camp (Sunny Lanes pattern from Pat Speth). It took forever to get the blocks together--I had made the four patches and HST's before I left home, but my brain was trying to make them into a different quilt. Needless to say, there was reverse sewing involved!
This morning my friend Jayne brought me batting and backing fabric from our guild Crisis group. As soon as I get the top quilted, I will hand the quilt off to her to be donated as the group sees fit.
I love how cheerful it came out and it's fun to move some stash fabric out the door.
I also added the final border to my Arctic Circles top. I was getting really bored tired of this project, so after English Paper Piecing the borders, I attached them by machine with MonoPoly and a narrow zig zag stitch. I only use my Bernina at retreats, so this was another thing I really wanted to get done. My everyday,
"at home"
machine (Juki) only does a straight stitch and I rarely need anything more than that.
Yesterday, I cut some blue strips that I am appliqueing onto the outer edges so I will have a clean finish.
I was kicking myself for not having some leader/ender piecing along with me. I'm thinking this project , Church Window Hexagon Variation starting Wednesday from Temecula Quilt Co. will make a good LE project and burn up some scraps as well. I wouldn't do them with papers though. I think there's a way to piece it by machine that would have a similar look.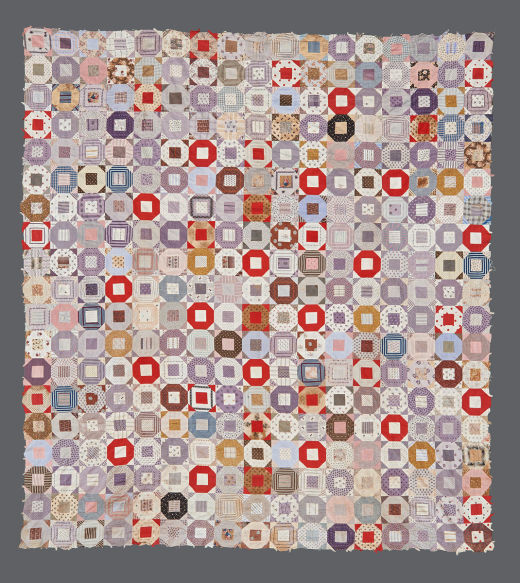 I've resisted so many sew along's already this year--no Bonnie Hunter mystery, no Pam Buda 1880's 9 patches, no Kathleen Tracy Mystery 2019 (I may cave on this one!), and no Country Threads Bulls-eye Quilt (although I do want to make another one someday).
I'll let you know what I DID cave on next time!